Keystone Lock and Key

PO Box 270
PO Box 629
Clarks Summit, PA 18411
Honesdale, PA 18431
570-586-2930
570-253-1476
570-586-2837 - Fax - Call First
Restricted Key Systems / High Security Locking Systems
Medeco - Original
Medeco - Biaxial/Patriot & Other Open Section Keyways
Medeco - M3 Freedom / McGruff
ASSA - V-1O
Schlage - Primus Level # 1 & 1+
Schlage - Everest
Key Control Expertise That Can't Be Duplicated
A locking system is only as good as the control of the keys.
The next time you need a key copied, consider the risks of a security system that has no key control protection. If all you have to do is go to a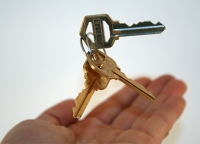 local hardware store for duplicate keys, you may need to reassess your facility. And if the keys to your lock are easy to replace, chances are the lock itself may be inadequate.
Marking "DO NOT DUPLICATE" on a key does not really keep people from getting the key copied. In fact, there is really only one key that cannot be copied in the USA. This key is for the US Post Office and it is their mail box key. This is because there is a federal law against copying this key. Stamping or marking a key "DO NOT DUPLICATE" only alerts the person who was asked to make a copy and that maybe additional questions should be asked.
Medeco® Facts

• Several different key control programs to meet a wide range of security and key access requirements. (see below for more information on each program)
• Steel security sidebar within Medeco cylinders virtually eliminates picking
• Anti drill steel inserts in many products for added security against drilling attacks
• Medeco locks are made with pride in the U.S.A.
• Medeco locks protect U.S. government and military installations, both here and abroad, as well as schools and universities, hospitals and banks, vending machines and parking meters, homes and offices, and much, much more.
High Security Locks

ASSA http://www.assalock.com/
Medeco http://www.medeco.com/
Primus by Schlage http://www.schlage.com/
If you have an ID card that looks like one of these below, we can service your system and provide you with additional keys.