Printer Friendly Version
•Sales, Service, Repairs, Opening, Installation
•Cash Handling / Depository Safes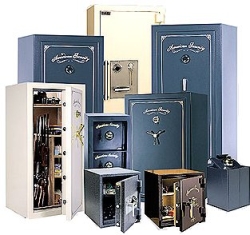 •Fire Resistant File Cabinets •Combination Changes
•Installation of Electronic Safe Locks
If you are considering calling for service on you container / safe, please review the questions at bottom of page. Any & all information that you can provide will help. If you can send a picture via e-mail that would also be very helpful.
The National Fire Protection Agency (NFPA) reported that there were nearly 400,000 home fires in 2005 in the United States accounting for almost $7 billion of property damage.
American Security Products Co. is highly acclaimed for offering the industry's best fire protection. We manufacture the industry's broadest range of fire rated products ranging from Underwriter's Laboratories (U.L.) Listed 1 and 2 hour fire safes to our Mercury Class I, Class II and Class III fire protected gun safes.
American Security Products Co. gun safes offer the level of fire protection you need to safeguard your valuables.
Safe shopping is like car shopping, what you want isn't necessarily what the next person wants. Safe needs are different for everyone and there are many options to consider such as sizes, shelving, drawers, and lock.
Mercury Fire Ratings Explained
MERCURY CLASS I & II FIRE PROTECTION

Inside
Temperature
Less than*

HS Series
SE6831

HS Series
RF6528

BF Series

LP Series

5517W/5924W

S&W Home Security

*Each safe is designed to maintain an interior temperature less than 350°F.

Paper products will char at approximately 450°F.
Intumescent Door Seal:
When the intumescent seal is exposed to high temperature (above 250°F), it expands to as much as 8 times it's original thickness. In this expanded or reactive state, it has very high thermal insulating capacity and resistance to breakdown. This provides a strong positive seal between the door and body, preventing heat influx.

A&B http://www.a-bsafecorp.com/
AMSEC http://www.amsecusa.com/
Gardall http://www.gardall.com/
Meilink http://www.fireking.com/
Permavault http://www.permavault.com/
Schwab http://www.schwabcorp.com/
Sentry http://www.sentrysafe.com/
Safe Lock Manufacturers
AMSEC http://www.amsecusa.com/
LaGard http://www.kaba-mas.com/
Sargent & Greenleaf http://www.sargentandgreenleaf.com/
Questions that will help us service your safe/container.
Please review these questions & make note of any information that you can obtain.

1) Do you have any idea how old the container / safe is?

2) How long have you owned the container?

3) Is there a manufactures name on the container? Is there a model number or serial number?

4) Are there any safe rating labels on the body or door of the container?

5) Is the container locked or unlocked?
. If the container is closed & locked, when was the last time it was opened?

6) Is the safe lock key operated?
.Are there any key hole's in the containers door?
.If yes, is there (1) or (2) holes in the door of the container?

7) Is the safe lock a mechanical dial or an electronic key pad?
If mechanical
. Is there a key hole in the face of the mechanical lock dial?
If electronic
. Have you changed the battery?
. Fresh alkaline batteries are required.

8) Is there a manufactures name on the face of the safe lock?
Note: The name on the dial may or may not be the same as the manufacture of the container.

9) Do you have the numbers / combination for the lock?

10) If the lock is an electronic lock, are you getting any indications from the key pad?
.Any audible tones? What type (short / long / fast / slow) & how many?
.Any visual indicators / lights? What color are they & how many flashed of that color?

11) If the lock on the container was working,
Is this a sudden problem, or has the lock been getting progressively harder to open?

12) When was the last time that any service was done on the container?

13) Is there a separate handle on the container, that is used to open the door?
If known, does this handle have to turn left or right to retract the lock bolt & open the door?

What shape is this handle? ("T" shaped or "L" shaped or something different)
Is the handle located to the left or right side of the lock on the door of the container?
Is the handle located below the lock on the door of the container?
Are the lock & handle in line with each other or are they offset at an angle?
How far apart are the dial & handle?
Please measure the distance, from the center of the handle to the center of the dial or keypad.
14) What color is the trim on the lock dial or key pad & handle? (bright brass, silver, flat black)